Here comes another blog post even though I thought I would need two months to have something interesting to share!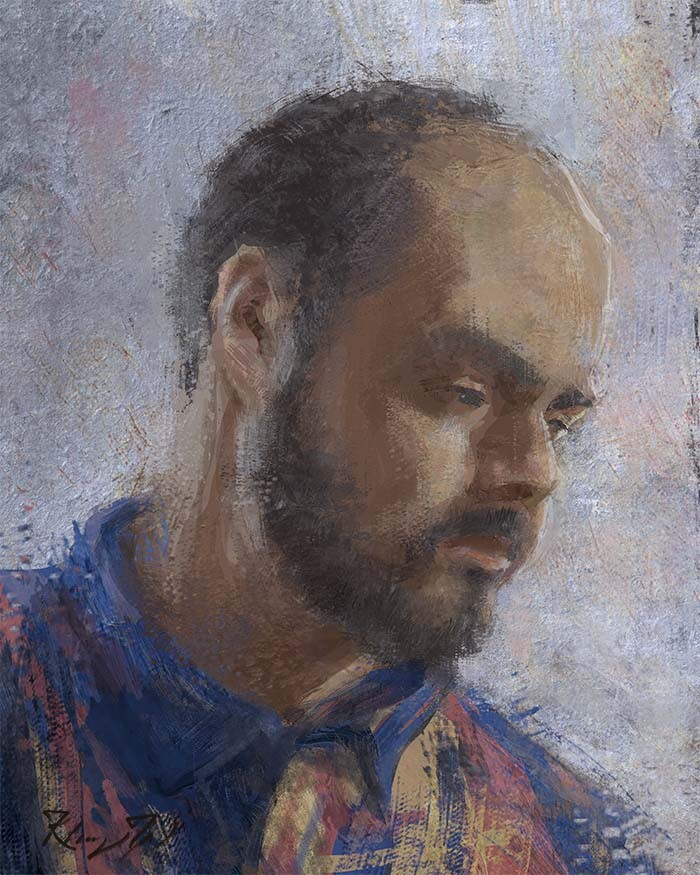 Portrait of Iliya Mirochnik - My NMA Instructor
Iliya, my beloved art instructor at New Masters Academy (NMA) for the past six months, has introduced a cool new way to play with digital painting once again. Welcome to "HeavyPaint".
The remarkable thing about this little app is that it allows me to paint truly with shapes in an abstract interesting way. At this time, I've learned how to mix colors and do oil painting digitally with traditional artists for a year. Therefore, this is a perfect time for me to test out the "Hardcore Mode" which does not allow me to Undo, Redo and Color-Picking in HeavyPaint trial version on my Windows PC.
Here all my learning effort paid off nicely. After playing around with the new app and testing out how each of the features works, I then painted this female portrait via mostly Fill, Line, Rect tools and choosing colors via HSV sliders only. What a strange powerful feeling as for the first time ever, digital painting felt so risky as I had to be decisive with each color choice and stroke placement.
Portrait of Mather in Heavy Paint
Thus, after the painting in 2 hours 18 minutes, I felt like I was on another planet and decided to purchase HeavyPaint Pro to continue to enjoy all the newly weird ways to create more fun and powerful illusions. It's that magical! Here is the timelapse of the above painting to celebrate this fantastic moment!
I'm looking forward to seeing how this lovely simple-looking app is growing and having more amazing abilities to create and play with even crazier shapes.
Today, at my place, Ho Chi Minh City, Vietnam, it's December 24, 2021. So, Merry Christmas to you all, my dear readers! Thank you for coming back and reading what I'm sharing each month.
Keep learning, stay motivated, have fun, take it slow and enjoy your journey!